I, Banquo: Designer's notes
The set
Bloody sheets
"The blood and the paper were all in the script" says Graeme "but, that given, there were a whole load of problems for me to solve.
"During the show, Tim throws the blood all over himself, the backdrop and the floor. The show was touring to school halls. Caretakers would not be pleased. So the paper had to be big enough to stop the blood going everywhere, yet not so big as to need anything larger than a people carrier to move it around. It also couldn't get soggy and disintegrate when drenched with blood. Finally, it had to cost practically nothing as we were on a very strict budget and each show requires a new sheet.
"I happen to know that, if you phone up the Brighton Argus print plant and ask for a certain chap, you can get security clearance to drive in and pick up the end rolls of newsprint paper (which are 2.5 metres wide and 30 plus metres long) which would otherwise go to recycling. These in hand, I then made up 2.5m x 6m sheets of roughly torn patches, layered on top of each other, stuck together with latex glue, (which laminates the paper making it fairly waterproof). The resulting slightly scrumpled texture makes the thing look faintly battle worn even at the beginning, despite its pristine white colour.
"It's a sort of giant papier mache. Each sheet takes around 3 hours to make - and a lot of space. Luckily I have a large workshop in an old farm building just outside Brighton."
A bloody head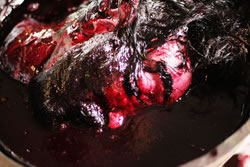 "The head always turns a few stomachs. It's the eyelashes, I reckon, which are made from old paintbrushes, and the wig, which is pretty realistic. The main body of the head is foam dipped in latex, over a muslin skeleton, held in place with muslin. It's hollow, but we had to stuff it with plastic bags to stop it filling entirely with blood - Tim has to hold it up with one arm for quite a long time at the end and he just couldn't hack it."
"Tim rinses the head out at the end of the week and hangs it on his washing line to dry. They've got used to it now, but a few of the neighbours had a bit of a fright when they first saw it."
Blood clots
"These always get a groan from the audience. They do look hideous, but I promise they are just old rags dipped in the stage blood. Promise!"
Blood
The blood is another story. Read about it and get the recipe here