I, Banquo: Designer's notes
Things to do
Make edible blood!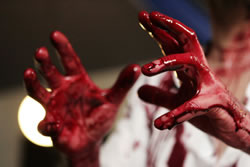 "30 litres of blood are needed for each show." says Graeme. "It has to be washable, as Tim gets it all over his costume, face and arms, and he doesn't want to alarm anyone on the train on the way home. It also has to be non-toxic, as it is flying around everywhere.
"Again, the whole budget thing meant we couldn't just buy loads of ready made stage blood, which ticks all the right boxes, but is really expensive. So I researched a lot of different stage blood recipes and we tested them out. In the end we came up with this:
My Fake Blood Recipe
Makes 1 litre of blood
600ml Golden Syrup
200ml water
200grms Cornflour
70ml Red food colouring
1 tsp Yellow food colouring
1-2tsp Green food colouring
Wear rubber gloves, cover everything in plastic and mix it up in a bucket you don't mind staining red.
Keep cool. It goes off after a while and gets really really smelly.

Graeme's partner Flo mixes it up in their kitchen. He promises to take a photo of her making blood for the Unicorn run and we'll post it up here.